Sustainability Vision
At IOI Corporation Berhad (IOI), we believe in meeting the needs of the present without compromising that of the future generations by:
Committing to protect, rehabilitate and preserve the environment where we live in
Ensuring that the economic, social wellbeing and health of our employees and their families as well as the wider communities are safeguarded
Leading and innovating as well as embedding sustainability practices into our businesses
Sustainability Governance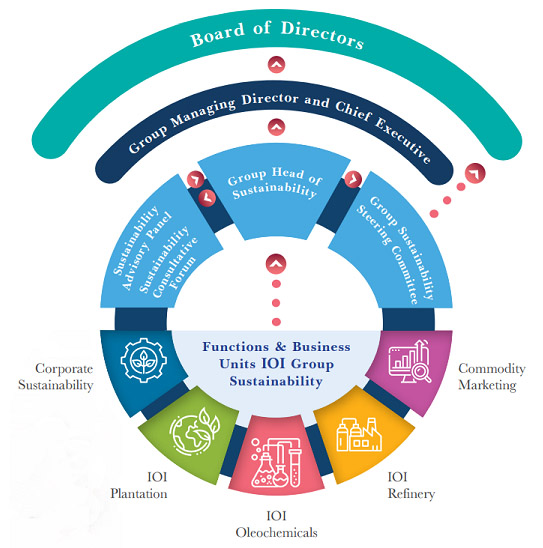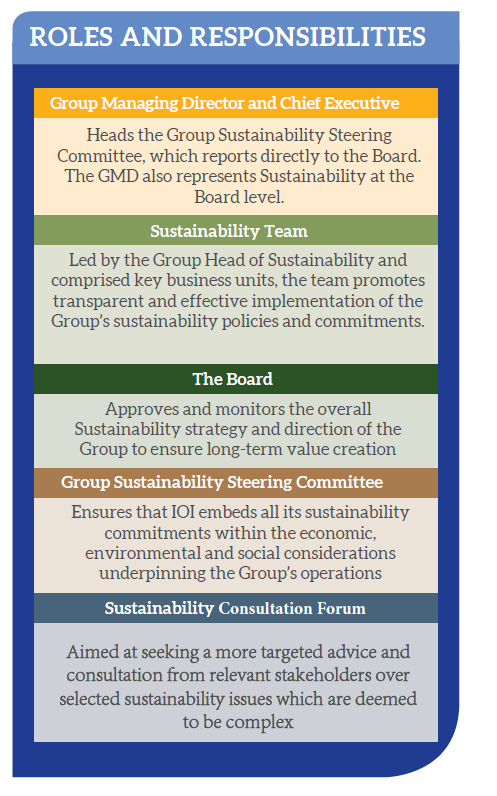 IOI has developed and will continuously improve upon a systematic approach to sustainability by ensuring sustainability sits at the top agenda of IOI's management. Additionally, to ensure transparency IOI established a Sustainability Governance structure. This Sustainability Governance structure comprises Board of Directors, Group Sustainability Steering Committee, Sustainability Team, and an external Sustainability Advisory Panel.
The Group Sustainability Steering Committee (SSC) was established to ensure that the Group's sustainability agenda, commitments and issues are discussed, approved and implemented. The committee oversee the management strategies and processes designed pertaining to the organisation's social and environmental risks and achieve compliance with social and environmental responsibilities and commitments. The SSC, chaired by the Group Managing Director and Chief Executive, comprises of Independent Non-Executive Director, heads of the operating divisions, Group Head of Sustainability and senior management from group support functions. The SSC meets at least once a year and reports with the Board. Among the items discussed during the meeting including the Company's sustainability risks & strategy, issues & work plans, implementations and performance targets.
The Sustainability Advisory Panel (SAP) supports the roll-out of the Group's SIP, advises on specific issues raised by multi-stakeholders such as NGOs, certification bodies like RSPO and MSPO, IOI's team, etc., via the newly formed Sustainability Consultation Forum (SCF).
The SAP is composed of NGOs, international brands and subject-matter experts and experienced professionals from various countries and sectors as well as representatives from IOI Group senior management while the SCF is a forum set up by IOI, with the Panel as its core members, to gather feedback and perceptions from external stakeholders on selected, complex sustainability issues, as well as bottom-up feedback from IOI's management and sustainability team.
The Panel will advise and challenge the Group on delivering its sustainability commitments and ambition. It will provide a critical review and advisory function to the Group's sustainability activities and help to review its progress in delivering its sustainability commitments as set out in the SPOP, SIP and the SCF.
Please click here to download the Terms of Reference (TOR) for SAP.
Please click any of the following to download the SAP minutes of meeting.
SAP Meeting Notes 25 April 2017
SAP Meeting Notes 07 June 2017
SAP Meeting Notes 16 June 2017
SAP Meeting Notes 20 September 2017
SAP Meeting Notes 27 November 2017
SAP Meeting Notes 24 June 2018
Please click the following to view the Sustainability Consultation Forum (SCF)
Second Sustainability Consultation Forum (2022)
First Sustainability Consultation Forum (2021)
Attaining Balance by Harnessing Sustainable Partnership
IOI is committed to fully integrating sustainability into its core businesses. We believe that by attaining balance between development and conservation, it is better able to safeguard the wellbeing of the communities, protection of the environment, and prosperity of stakeholders. These approaches are driven by innovative solutions and through harnessing the power of collaboration where IOI has embarked on the strong partnerships with their stakeholders to help build a more dynamic and sustainable ecosystem and working hand in hand in smart collaboration towards attaining sustainable solutions and results.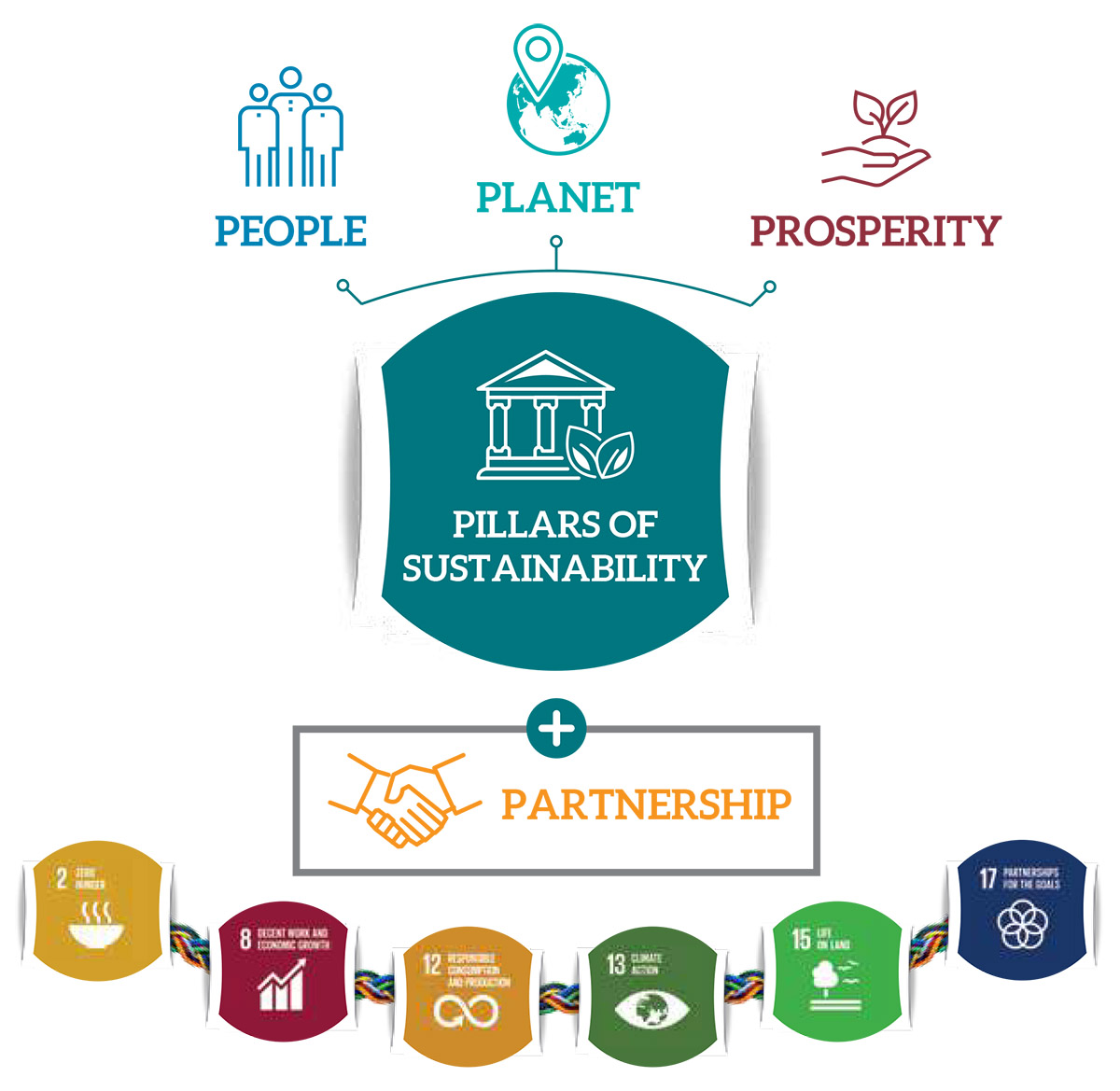 IOI's Contribution to UN SDGs
As a company with global operations, IOI recognises the importance of its role in this global initiative. As such, we identified six United Nations Sustainable Development Goals (UN SDGs) with their specific targets that are most relevant to its business and are in alignment with the pillars of sustainability and SPOP. Please click here for more info on IOI's Contribution to UN SDGs.