As an agricultural-based company dependent on the environment, IOI is fully cognizant that climate change is a risk to our business. Our "Climate Change Action initiative ("CCAi")" was therefore introduced in 2020 as one of our long-term action plans to mitigate and reduce greenhouse gas ("GHG") emissions from our diverse operations. Our aim is to achieve Net Zero as a group by enhancing existing carbon reduction initiatives while actively exploring new opportunities in minimising carbon emissions through operational efficiency and utilisation of renewable energy which is also in-line with IOI's 5 strategic priorities.
The Climate Change Action initiative ("CCAi") is reported in alignment with the recommendations from the Task Force on Climate-Related Financial Disclosures (TCFD) around four thematic areas (Governance, Strategy, Metrics and Targets, Risk Management) and with reference to the International Sustainability Standards Board ("ISSB") climate disclosures.
Our Governance
The management of Climate Change Action initiative ("CCAi") within IOI are embedded within the organisation through;
CCAi-related key performance index ("KPI") inclusion for the GMD and its top management as reported in the ASR. The KPI inclusion will be applied to the rest of the organisation to ensure a group-wide accountability.
CCAi-related strategy, programmes and development to be overseen by IOI's Group Sustainability Steering Committee. The committee will also actively support and advocate the initiatives under the Climate Change Strategy which will also include climate action risk and opportunity scenarios.
The Group Head of Sustainability and each sustainability units of the business divisions will undertake and oversee the implementation and monitoring of CCAi-related performance at the operations level.
Group's Enterprise Risk Management ("ERM") framework is used for reviewing the double materiality assessment on climate change to assess sustainability risks and financial impacts of climate change towards the company business.
Our Holistic Approach
Our approach in implementing the Climate Change Action initiative ("CCAi") and IOI's strategy is developed around the following commitments:
To reduce our climate change impact by setting long-term science-based target versus the baseline to provide clear GHG emissions reduction status.
To promote climate action plan and practices through innovation, improved efficiency and support actions throughout the operations.
To increase resilience of our business by managing risks and opportunities, forecasting climate scenarios for climate impact valuation and incorporating circular economy in our operations.
Strategy
To achieve Net-Zero GHG emissions, IOI is committed to continuously improve our climate change action plans through mitigation and adaptation of our environmental performance within our operations to include: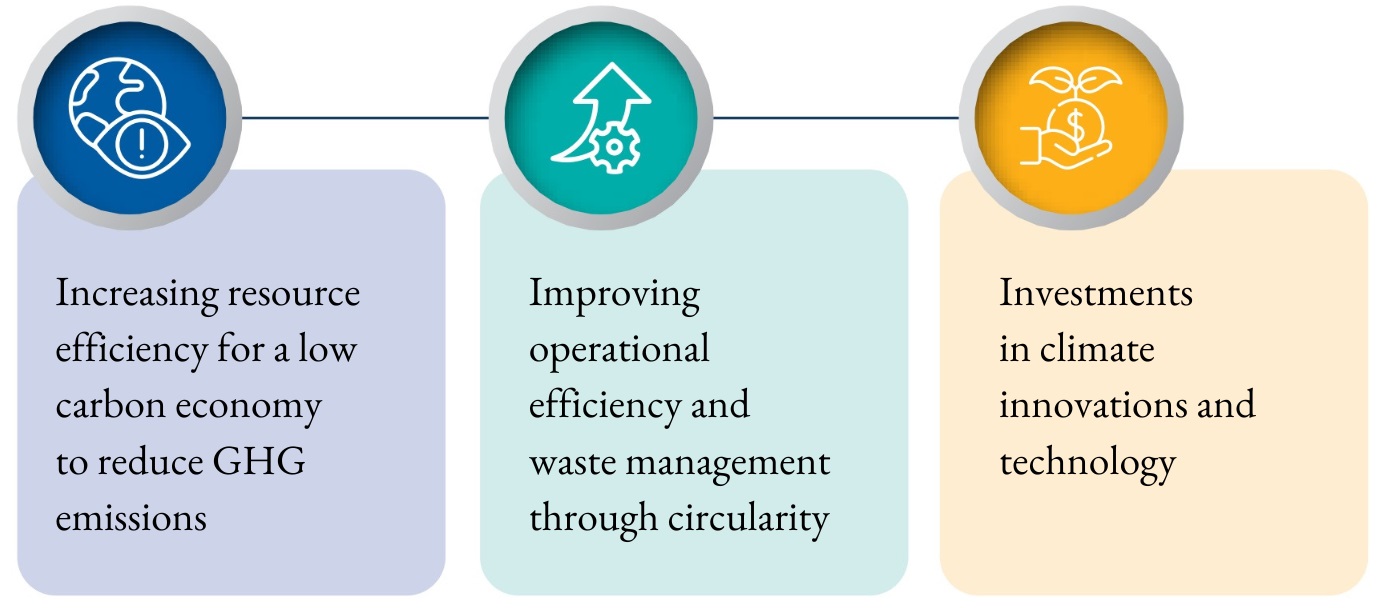 To further enable IOI to strategise in a more holistic way in responding to the potential climate risks, IOI conducted a quantitative group-wide climate change assessment forecasting climate scenarios for climate impact valuation.
Metrics and Targets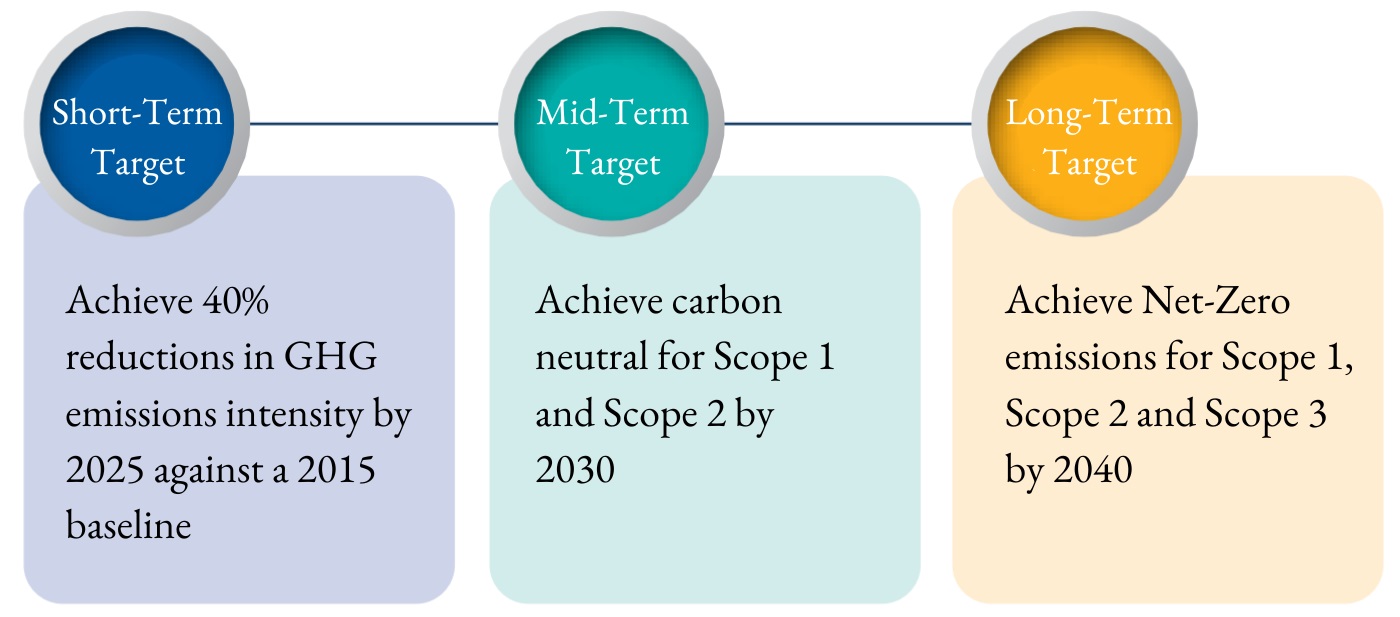 IOI established a five-year emissions reduction target with 4% reduction annually as a short-term benchmark to reduce GHG emissions intensity by 40% in 2025 based on the 2015 baseline. IOI is targeted to possibly achieve negative amounts of GHG emissions or at least carbon neutral for Scopes 1 and 2 by 2030, and has also announced its group-wide GHG emissions target to achieve Net-Zero emissions for Scopes 1, 2 and 3 by 2040.
Progress towards achieving our Net Zero target will be reflected in the graph below: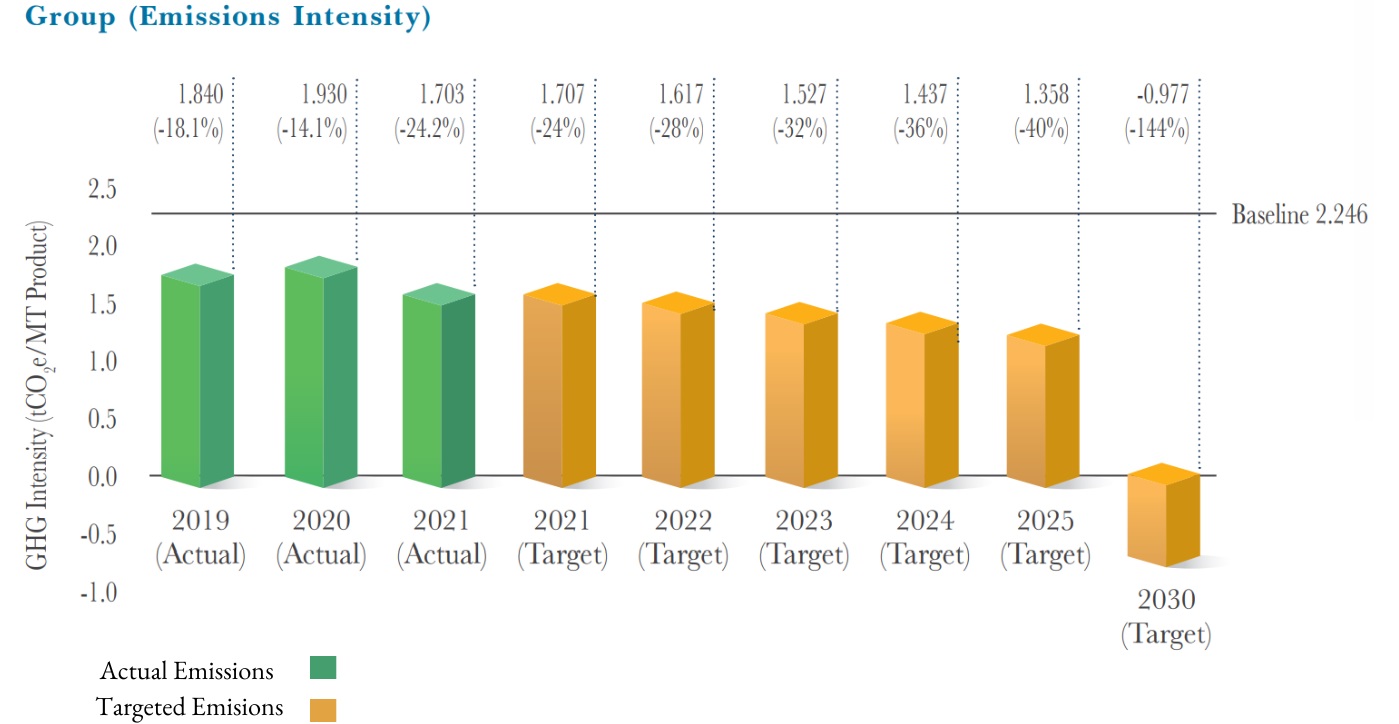 Footnote: GHG emissions calculation for IOI Plantation is based on RSPO PalmGHG, calculations for refinery are based on ISCC methodology, calculations for oleochemical are based on the Intergovernmental Panel on Climate Change's (IPCC) and the Institute for Global Environmental Strategies (IGES).


IOI Commitment to SBTi-FLAG – Net Zero by 2040
On 6th March 2023, IOI's letter of commitment to the Science Based Target initiative in the category of Forest, Land and Agriculture (SBTi-FLAG) was accepted. A formal announcement of IOI's commitment to SBTi-FLAG was made during our inaugural Panel Discussion on IOI's Pathway to Net-Zero on 21st March 2023.
The SBTi FLAG commitment requires companies to commit to zero deforestation and develop verifiable science-based emission reduction targets in line with the latest climate science. IOI has committed to setting both near-term science-based emissions reduction targets in line with the SBTi criteria and recommendations as well as net-zero targets.
IOI's SBTi-FLAG commitment progress is showcased in the SBTi Target Dashboard.
Risk Management
IOI conducted a quantitative group-wide climate change assessment with an expert TCFD consultant to help identify our climate-related transition and physical risks.
Internal Carbon Pricing
IOI is planning to use internal carbon pricing ("ICP") to enable us to put monetary values on carbon emissions for internal decision-making process and risk analysis involving our investments in low-carbon technology that can help reduce our GHG emissions. An internal working group has been formed to established our ICP. The ICP will consider Scopes 1, 2 and 3 GHG emissions of the Group as well as the effects of future carbon regulations and costs associated to carbon emissions.
Climate Related Risk and Opportunities
The climate-related transition and physical risks analysed are in alignment with the Task Force on Climate-Related Financial Disclosures (TCFD) and are based upon IOI's specific sourced data as well as data from well-known international climate organisations and other relevant third-parties.
Our Transition Risk
Type of Transition Risk
Risk
Opportunities
Policy and legal

Negative financial consequences associated with GHG emission reduction policies (e.g., carbon pricing) due to higher cost of compliance and cost of doing business
Additional costs due to carbon taxes imposed on fossil fuels (e.g., diesels)
New legislations like the European Union regulation on deforestation-free products that are climate-related that can impact the way we do business

Increased carbon price can constrain a company to adopting a low carbon operation that would significantly reduce operational cost
Reduced dependency on non-renewable fuels would give IOI's businesses competitive advantage
Companies who are well prepared would have first mover advantage to address and adapt the way businesses are conducted to any climate related legislations

Technology

New or replacement of products that are perceived to be produced or derived from processes that can affect climate change negatively
Outdated systems that are energy intensive would significantly increase operating costs

Producing products in a sustainable way via waste management and circularity like the use of methane capture, biomass that not only negate negative perception of our products but create value added products from "wastes"
Promoting efficiency in energy usage and sustainable use of natural resources through innovation and technology

Market

Loss of market positioning from buyers and customers when expectations for low carbon products are not met
Loss of market due to high GHG emissions or perceived as laggard in reducing GHG emissions
Loss of Branding value when company's climate change strategy and targets are not evident

Gain competitive advantage in the marketplace for early adoption to low carbon emission operations
Ability to penetrate markets that have strict regulations on carbon emissions
Positive brand recognition as a climate friendly company.

Reputation

Reputation of a company is threatened when stakeholders perceived that the company is exposed to climate risks while there is no evidence of effective management and supervision of these climate-related risks

Improved environmental scoring and reputation of the company
Steps taken to introduce strategy and management of these climate related riskd along with adaptation and mitigation measures that will help the company face these risks
Our Physical Risk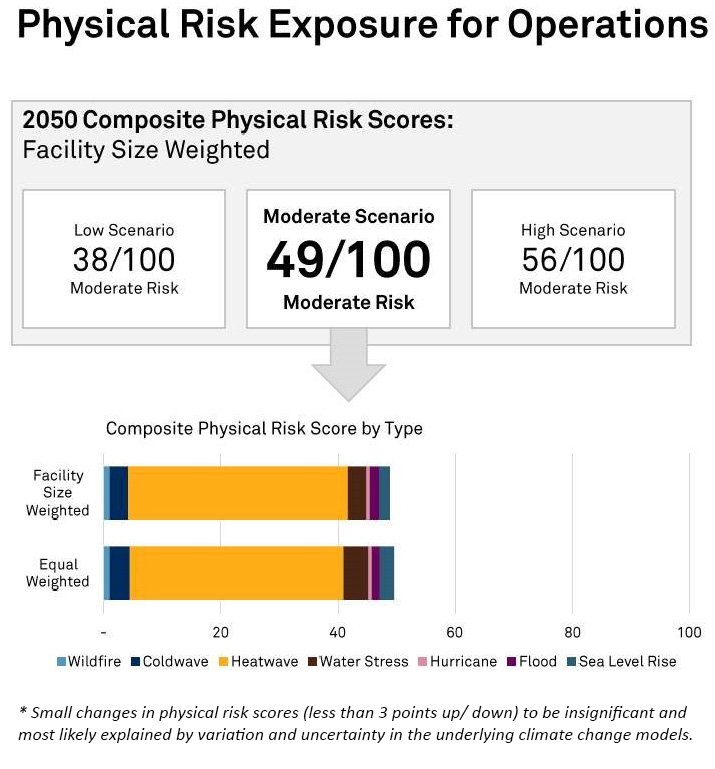 Footnote: Physical risks resulting from climate change to the operating units were quantitatively assessed by using climate modelling datasets and relevant hazard models based on different severity of climate change scenarios until 2050.
Type of Physical Risk
Risks
Opportunities
Acute

IOI facilities and landholdings are located at areas that have low or stable acute risks so that operational disruption due to extreme weather event is low

Exploration in technology and innovation to prevent facility inundation, diversification of products and climate resistant materials.

Chronic

A number of facilities and landholdings are expected to be exposed to heatwave and water stress.
Few of the facilities and landholdings that are located close to the coast are expected to have risk of sea level rise.

To explore alternative water source and water retention facilities which will increase operational resilience as well as reduce operational costs in long run.
Mitigation plan to address the risk of sea level rising can be put in place.
Our Mitigation and Adaptation
While climate change present significant risk to all the companies at different magnitude, they also create significant opportunity and competitive advantage for companies that are able to recognise those as part of the risks and subsequently explore mitigation and adaptation solutions. Below are the mitigation and adaptation solutions for the identified transition and physical risks in IOI operations:
Climate Related Risk
Risk Exposure Type
Mitigation Solutions
Adaptation Solutions
Transition Risks
Carbon pricing

Continuous exploration in innovation and low carbon technologies to effectively reduce our operational GHG emissions
Enhance supply chain engagement to form smart partnerships for collaborative projects involving low carbon alternatives and reducing scope 3
Implementation of Internal Carbon Pricing to promote utilization of energy efficiency processes

Initiate carbon sequestration projects such as conservation and reforestation of set aside vegetation areas e.g., RELeaf project
Continuous improvement of the yield and planting materials of oil palm to resist climate change and maximize carbon sequestration within our estates
Practice Regenerative Agriculture in our estates to improve soil quality in maximizing carbon sequestration and ecosystem services

Physical Risks
Heatwave

No new developments on peatlands and protection of the peatlands through water management and fire prevention
Installation of appropriate heat insulation in our buildings and facilities
Utilize low energy cooling systems (e.g., vapor absorption chillers and Open Loop Cooling spray)

Monitoring and improving workers' health and productivity by making appropriate adjustments within our operations, e.g., recommendation of suitable working hours and through innovation in Artificial Intelligence ("AI").
Install air ventilation system to reduce dependency on air conditioning in our buildings
Application of green technology in heating (e.g., solar thermal power system)

Water stress

Re-utilization of reject reverse osmosis water
Install rainwater harvesting and retention system
Utilization of treated and recycled effluent and waste water
Enhanced Metering and Monitoring: Network enabled water use monitoring technologies to enable real-time feedback, control over water consumption, respond to water leaks and infrastructure damage.

Improvement of planting materials for oil palms that are water stress resistant
Initiate projects and awareness engagement programme to promote responsible water usage
Increase efficiency of water use on key plantation/ refinery processes.
Constructing a silt pit perpendicular to slopes to collect surface water runoff
Conserve soil moisture by enhancing soil structure and its holding capacity.

Sea level rise

Coastal Management: Implementation of beach nourishment, cliff stabilization, coastal setbacks, dune rehabilitation and wetland restoration may reduce the extent of coastal flooding.
Flood Defenses. Infrastructure such as sea walls and storm surge barriers may aid in protecting key facilities from flood.
Minimize flooding in the estates through smart water management e.g., enlarge existing drainage for better flow, improve drainage system using water gate etc.

Relocation of sensitive machinery or electrical instrument to higher level area.
Elevate the machine foundation, equipment footing, pump plinth and base frame of motor
Ensure drainage passages are clear from dirt and foreign material accumulated by conducting routine maintenance
Details for our Climate Change Action initiative and progress can be found Here in our Sustainability Report 2020 onwards.