Vision and Mission
IOI Palm Biotech Sdn Bhd, a BioNexus Status Company, was incorporated on 19 August 2009 as a wholly owned subsidiary of IOI Corporation Berhad (IOI). It is established for the main mission to commercially produce superior high-yielding oil palm clones using cutting-edge tissue culture technology developed through in-house research and development since the late 80s. In addition, it also conducts molecular markers and genomics research for continuous improvement in terms of the yield and quality of oil palm planting materials as part of IOI's sustainable palm oil production value chain.
IOI Palm Biotech's vision is to be a leading innovative biotechnology company in developing and utilising cutting-edge technologies to add value as well as to improve the oil palm planting materials, which will contribute towards a sustainable financial growth and returns to the company and the palm oil industry.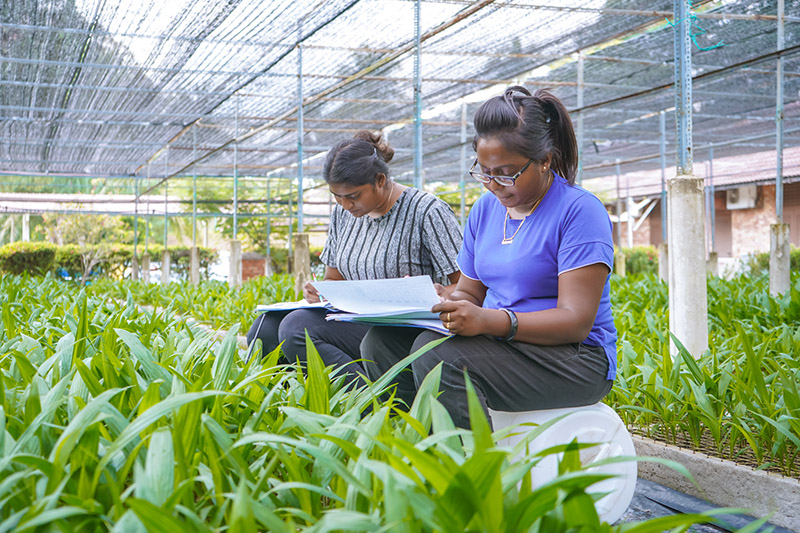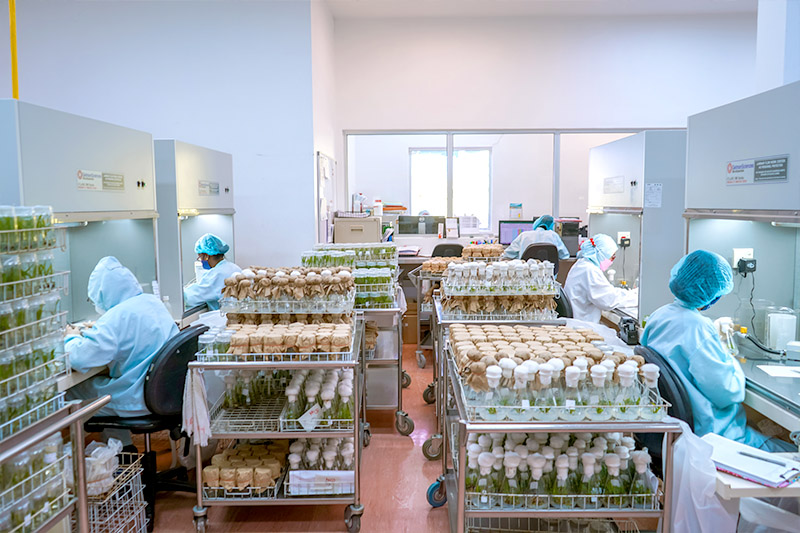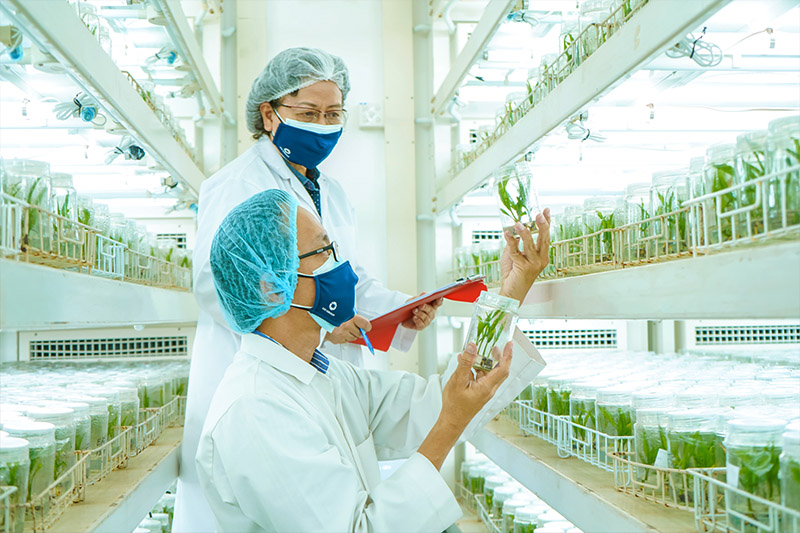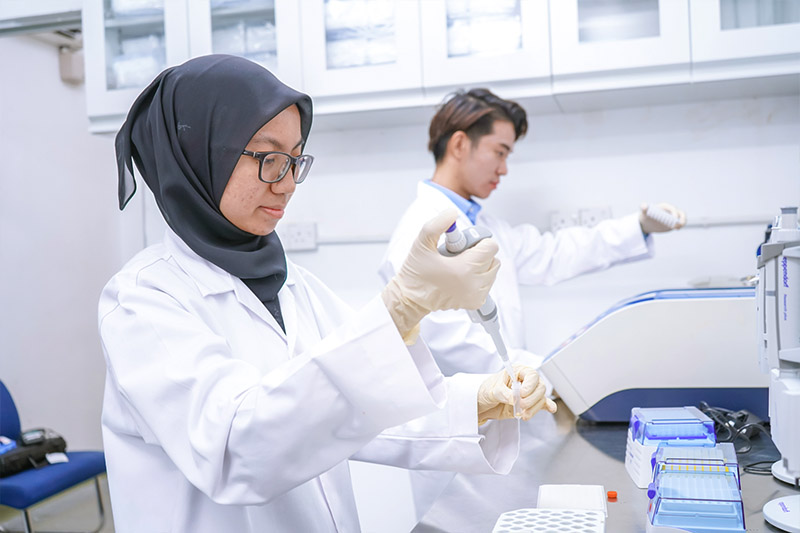 IOI Palm Biotech Centre is headed by the Controller of Biotechnology Dr Lim Loon Lui, who is supported by a team of experienced executives and supervisors as they are involved in the Centre's day-to-day operations in clonal palm production, quality assurance, nursery establishment and research and development (R&D).
With more than 20 years of intensive and systematic research at IOI Tissue Culture Laboratory (formerly known as the Research Unit for oil palm tissue culture and biotechnology under the Plantation Division of IOI Corporation Berhad), Dr Lim and her team has successfully developed the current cutting-edge tissue culture cloning technology, resulting in high-yielding oil palm clones being produced today.
IOI Palm Biotech Centre currently has a built-up area of over 3,000 square metres, comprising a purpose-designed Tissue Culture Laboratory for the commercial production of oil palm clones, and nurseries for clonal ramet hardening and establishment, all of which are located on a 7-acre land area. The production laboratory consists of a well-designed building that provides a good work flow and efficiency of different work areas, including clean room facilities, specialised and environmentally-controlled culture incubation rooms for different stages of tissue culture and production of clonal plantlets, and nurseries with special requirements for the acclimatisation, hardening and establishment of clonal ramets before dispatching to selected estates' nurseries. In addition, the laboratory also includes research facilities with state-of-the-art equipment for biotech and molecular research.
The conventional commercial oil palm planting materials comprised of DxP hybrid seeds (also known as Tenera) obtained by crossing the thick shell Dura (D) with the shell-less Pisifera (P) and selected based on results of breeding trials. The Tenera palms produced, however, show variations in oil yields and fruit characters, as the crossing of Dura and Pisifera palms result in the segregation of the genes.
As arable land in Malaysia become scarce for the expansion of oil palm plantation, the industry can no longer rely on acreage expansion to raise production. The best way forward is to increase yield of the palms significantly. If the top 2 to 5% of the highest yielding palms in the breeding trials are selected and propagated in large numbers by tissue culture cloning, significant oil yield improvements can be expected, as the cloning process involves vegetative tissues, with no crossing over or segregation of the genes. The clones or ramets produced are expected to show similar heritable high oil yield characters and other desirable traits that the parent palms or ortet palms are selected for.
Over the years, the clonal ramets produced by IOI Palm Biotech Centre have been planted progressively with initial plantings in smaller scale replicated clonal evaluation trials before moving towards semi-commercial field plantings, and subsequently to large scale commercial field plantings. Millions of high-yielding clonal palms have been produced and planted in various IOI estates to date.
Enhancement of Palm Oil Yield with Clonal Planting
A series of seven Clonal Oil Extraction Rate (OER) Evaluation Tests were conducted in an IOI oil mill in Peninsular Malaysia between 2010 and 2015. FFB harvested from pure stands of clonal planting from surrounding estates were sent to the mill and processed separately on the dates set aside for clonal FFB. The results are shown in the table below:
Table: Comparison of Oil Extraction Rate (OER) between DxP and Clonal Palms.
OER from DxP
(Date)
OER from Clonal Palms
(Date)
Remarks
19.95%
(5 May 2010)
25.45%
(6 May 2010)
25.74%
(27 May 2010)
19.51%
(3 Oct 2011)
25.57%
(4 Oct 2011)
25.68%
(6 Oct 2011)
23.03%
(20 Oct 2011)
Rain from 18 to 20 Oct 2011
20.69%
(28 March 2012)
26.12%
(29 March 2012)
392.65 metric tonnes of FFB processed
23.01%
(26 May 2015)
27.22%
(27 May 2015)
The results at the mill showed that OER of FFB crops from pure stands of clonal palms were much higher than OER from DxP palms processed in the same period. The OER of clonal palms also showed progressive improvement from >25% in 2010 to 2011, to >26% in 2012, and >27% in 2015, in accordance to ortet palms with higher oil to bunch (O/B) values selected, cloned and planted in the estates over the years, resulting in the higher oil yields obtained progressively over the years.
The yields of oil palms, be it clonal or DxP planting materials, are also subjected to GxE (Genotype x environment) interaction where it depends on other environmental factors such as soil and climatic conditions, the quality of plantation management, as well as the harvesting and processing of the FFB within the optimum time. In this respect, hands-on management, coupled with proactive attitude and attention to details are paramount factors that contribute to the higher productivity of palm oil as the potential of the high-yielding palms are realised.
For continual improvement of planting materials, IOI Palm Biotech Centre is tasked to carry out in-depth study in biotech, as well as molecular and genomic research, by incorporating the latest technologies and knowledge available in the field of biotechnology and tissue culture.
The current and future molecular marker research that is or will be conducted at the IOI Palm Biotech's Molecular Research Laboratory include oil palm genetic diversity studies, DNA fingerprinting and other more advanced QTL (Quantitative Trait Locus) mapping and Molecular Markers development for application in Marker Assisted Breeding and Selection. The laboratory is also a member of an International Consortium, involved in collaborative research on Oil Palm Genome Projects (OPGP) since 2009. The OPGP International Consortium comprises more than 13 large organisations from countries such as France, Spain, Brazil, Colombia, Indonesia and Malaysia. The objectives of these collaborative research are to harness the latest development in biotechnological tools to maximise the development of genomic resources in oil palm for the continuous improvement in oil yield and the overall quality of palm oil produced.
With this objective in mind, it is crucial that the discoveries made at IOI Palm Biotech Centre are incorporated into the breeding programmes of IOI Research Centre; and are aimed at providing for the sustainable production of oil palm planting material, which is high yielding, with desirable traits and oil quality and more tolerant or resistant to oil palm diseases.