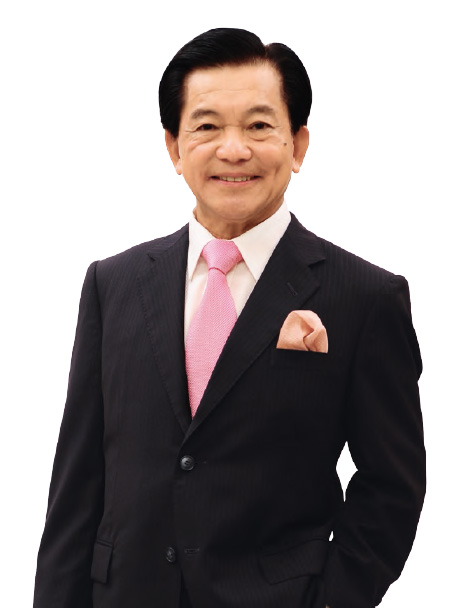 Tribute to Tan Sri Dato' Lee Shin Cheng
1939–2019
Tan Sri Dato' Lee Shin Cheng's life has become a favourite story in Malaysia's corporate folklore.
He was the Founder and Executive Chairman of two public-listed companies, IOI Corporation Berhad and IOI Properties Group Berhad. Through his vision, hard work and enterprising spirit, the companies have grown to become leading corporations in their respective sectors.
" We salute Tan Sri Dato' Lee for his many achievements. His life story will serve as an inspiration to many and his accomplishments will form an important chapter in the Malaysian corporate history. "
IOI Group
Tan Sri Dato' Lee was born in Jeram, Kuala Selangor, Malaysia in 1939. As a child, he was raised in a rubber estate where his father owned a sundry shop. At the age of only 11, he had to stop schooling and sell ice-cream full time on his own bicycle in order to help support his family. He did this for three years before he went back to school to complete his studies at Middle High School.
Tan Sri Dato' Lee started working at the age of 17, as a supervisor in a rubber estate. He diligently worked his way up to become a full-fledged estate manager before he turned 30 years old.
Tan Sri Dato' Lee's early years experiences instilled the enterprising spirit in him which later shaped his life-long entrepreneurial journey.
In 1975, Tan Sri Dato' Lee started a private-limited property company named Lam Soon Huat Development Sdn Bhd (later renamed as IOI Properties Berhad in 1994) and started his first housing development project in Kajang in the following year.
Subsequently in 1984, he acquired three property development companies and further expanded his property business.
In 1982, he secured a controlling stake in Industrial Oxygen Incorporated ("IOI") and used it as a vehicle to venture into oil palm plantation business starting from zero base. In the following year, he acquired three plantation companies in Pahang and later ventured into greenfield oil palm planting in Sabah through the acquisition of Morisem Plantation (Sabah) Sdn Bhd.
In 1990, he demonstrated his vision and foresight by acquiring Dunlop Estates, a business much bigger than IOI at that time. The acquisition marked the first major breakthrough in his life, and became one of the proudest moments for him. There is an added irony in that he applied for a job at Dunlop Estates 25 years earlier but was rejected due to lack of education qualifications. The RM500 million acquisition involved 13 palm oil estates (a total of 27,880 hectares), two palm oil mills, two rubber factories and one Research Centre.
Tan Sri Dato' Lee's other significant milestone involved the acquisition of Pamol Plantation Sdn Bhd in 2003 from Unilever. Since then, the breeding and seed production operation of Pamol became integrated with IOI Research Centre, which enables IOI to produce very high-quality seeds for its plantations.
Tan Sri Dato' Lee's vision and management capability extend beyond plantations and property. In 1997, he acquired a controlling stake in Palmco Holdings Berhad (later renamed as IOI Oleochemical Industries Berhad), a palm-based oleochemical company. Within one year of acquiring the struggling company, Tan Sri Dato' Lee turned it around into a highly profitable business by expanding the market base of its product globally. Nine years later, he acquired Pan-Century Edible Oils and Pan-Century Oleochemical, making IOI the world's largest vegetable-based oleochemical producer at that time.
In 2002, Tan Sri Dato' Lee further diversified his businesses and extended his reach globally by acquiring Loders Croklaan, a specialty fats company based in the Netherlands and with operations in the United States and Canada, from Unilever. The acquisition provided IOI access to the specialty oils and fats markets in over 60 countries and completed IOI's palm oil value chain, making it a leading global integrated palm oil producer.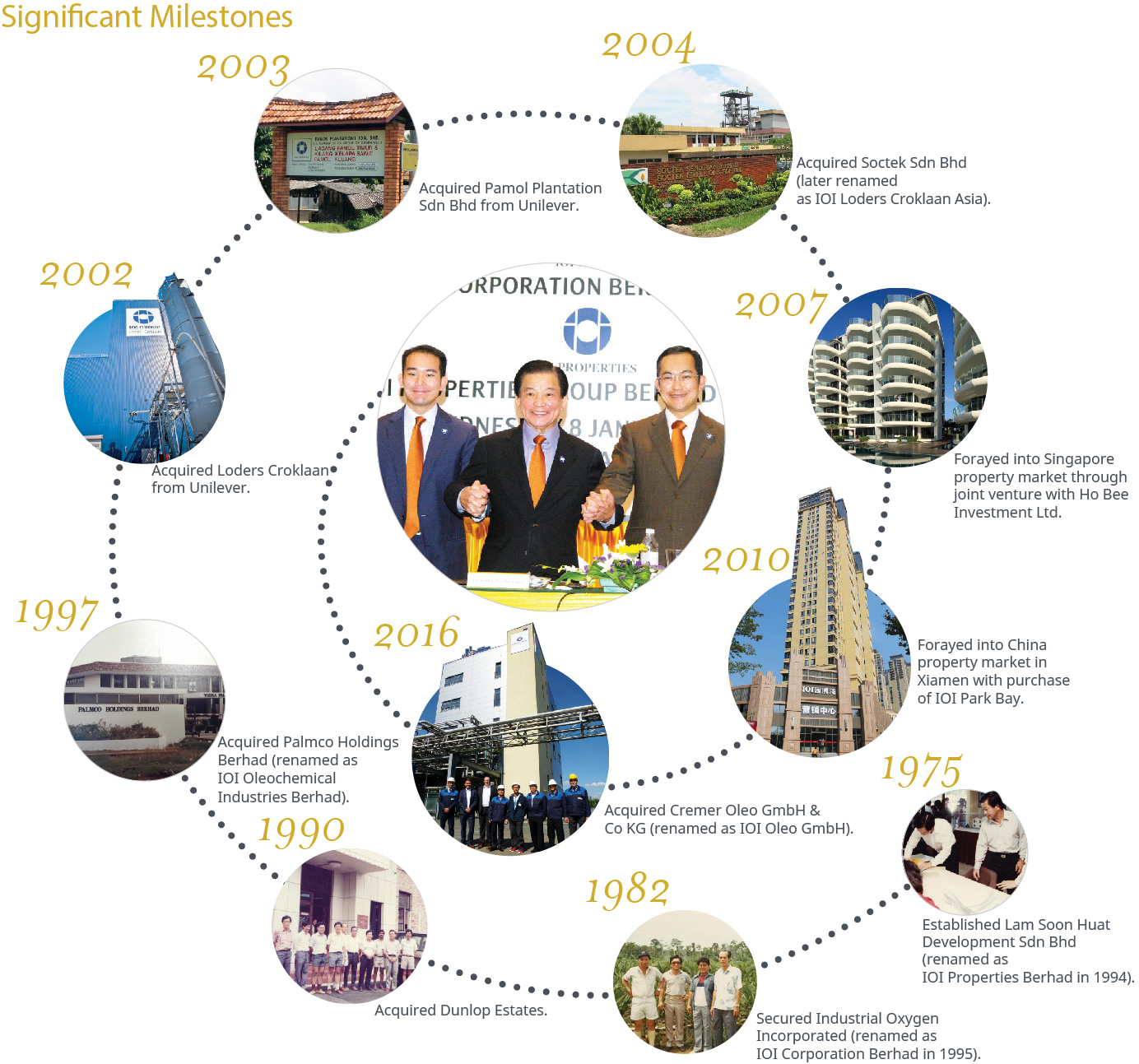 On the community and industry service front, Tan Sri Dato' Lee was the patron and advisor of many community and business associations in Malaysia. Among his notable contributions were leading the redevelopment of the 111-year old Kuen Cheng Secondary School as the Chairman of its Board of Directors and contributing to the entire development of Shin Cheng (Harcroft) Primary School in Puchong, Selangor through the charity foundation founded by him, IOI Foundation (formerly known as Yayasan Tan Sri Lee Shin Cheng).
Tan Sri Dato' Lee was bestowed the Honorary Doctorates in Agriculture from University Putra Malaysia and Honorary Doctorate in Science from University of Malaya in 2002 and 2017 respectively, and received many accolades for his outstanding accomplishments and leadership in the plantation industry.
Above all, Tan Sri Dato' Lee's tenacity and enterprising spirit were unrivalled by many in the Malaysian corporate circle, yet his humility and down-to-earth demeanour have gained the friendship and respect among many whom he met.