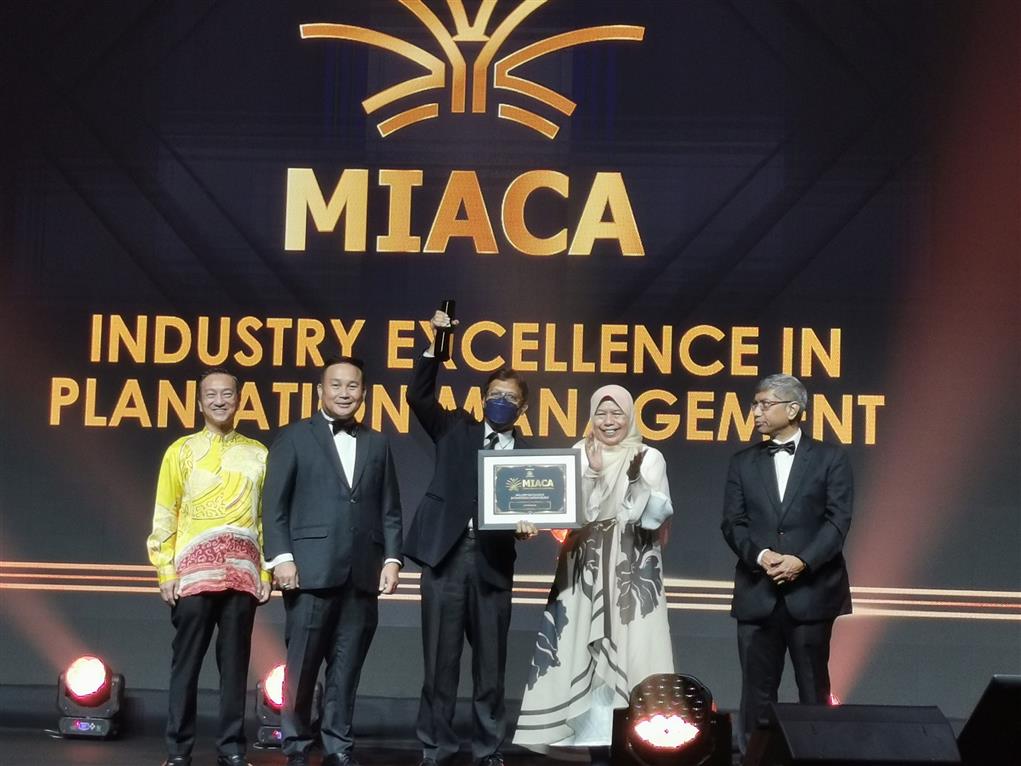 IOI Plantation Director Mr NB Sudhakaran (middle) receiving the coveted MIACA corporate award from MPIC Minister YB Datuk Hajah Zuraida Kamaruddin (second from right) (File pic by IOI Corporation).
IOI Corporation Berhad (IOI) has been conferred the coveted Industry Excellence in Plantation Management award at the inaugural Malaysia International Agricommodity Awards (MIACA) 2022, by the Ministry of Plantation Industries and Commodities (MPIC) at the closing of Malaysia International Agricommodity Expo & Summit (MIACES) on 28 July 2022.
IOI was recognised at this prestigious event as one of the well-deserving top achievers for our exceptional performance in expanding corporate and social development in the area of plantation management, as our Malaysian plantation estates and mills are both MSPO and RSPO-certified. We have also embarked on our digital transformation journey to drive social inclusion and operational efficiency of our operations since 2018, which accelerated value delivery and impact to our stakeholders.
The inaugural MIACA event seeks to recognise domestic achievers and their contributions towards the Malaysian economy, inspire and encourage local businesses to soar in the international scene with excellent products services that will spur Malaysians' pride.
IOI was also one of the Bronze Partners to the inaugural MIACES 2022, which was one of the first of its kind and the largest agri-commodity events in Malaysia, showcasing the best of the agri-commodity sector and creating over RM300 billion export value for agricommodity players in a global marketplace with over 10,000 visitors and 350 companies from 39 countries participating.